We participate in a number of fiber festivals during the year!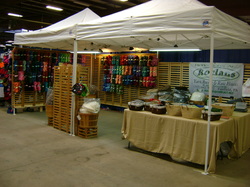 A shot of our booth at the Fiber Festival of New England. This year I plan to have the walls covered with colorful yarns!


---
We have a booth set up at the following Fiber Shows this year:

MD Sheep and Wool Festival - Barn 4 Booth 7, Howard County Fairgrounds, MD, 03 - 04 May, 2014 Waynesburg Prosperous and Beautiful Sheep and Fiber Festival, Greene Co. Fairgrounds, Waynesburg, PA, 17 - 18 May, 2014
Garden State Sheep Breeders Association Festival, Hunderdon Fairgrounds, NJ, 06 - 07 September, 2014
Shenandoah Valley Fiber Festival, Berryville, VA, 27 - 28 September, 2014
Fiber Festival of New England, The Big E Complex, Springfield, MA, 01-02 November, 2014


Getting ready for the festivals!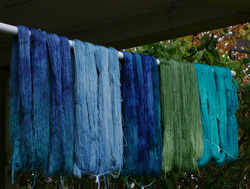 Some of our hand dyed yarn, "hanging out" to dry!
---